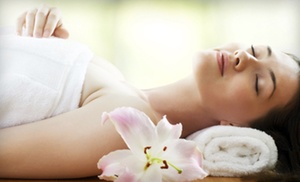 One 60-minute massage
Mind and body operate in tandem, which is why stress causes headaches and slamming your hand in the door makes you forget math. Restore your faculties with this Groupon.
Choose Between Two Options
$49 for a 60-minute massage (up to a $100 value)
$115 for a 90-minute Date Night spa package for two (a $230 value)
Couples massage
Couples pedicure
The 60-minute massage eases aches and tension with a choice of Swedish, deep-tissue, or hot-stone modalities. Alternatively, couples, friends, or mother-daughter teams can unwind in tandem during tension-taming massages and pedicures for two.