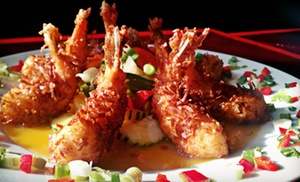 One appetizer and two entrees
One of the great simple pleasures of traveling abroad is stumbling upon a restaurant frequented by locals, followed closely by bathing in gelato and loudly explaining why everything in America is better. Replicate that feeling with this Groupon.
Choose Between Two Options
$23 for a Thai meal for two (up to a $49 total value)
$45 for a Thai meal for four (up to a $98 total value)
Each pair of diners receives the following:
One appetizer (up to a $9 value)
Two entrees (up to a $20 value each)
The menu spotlights starters such as fried calamari and main courses such as wasabi-crusted sea bass and panang curry with steamed rice.