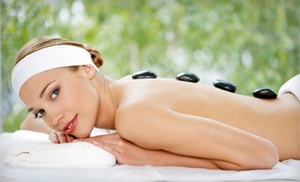 One 70-minute hot stone massage
Like fine marble statues, human bodies must be maintained in order to keep their north sides from growing mossy and their forearms from falling off. Stay chiseled with this Groupon.
Choose Between Two Options
$75 for one 70-minute hot-stone massage (a $150 value)
$139 for two 70-minute hot-stone massages (a $300 value)
Massage therapy helps stimulate circulation and improve flexibility and range of motion.