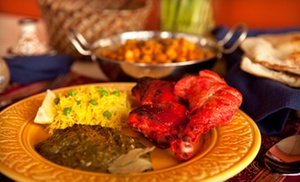 $30 Groupon
Indian cuisine's blend of sweetness and spice rivals that of a love sonnet carved into a jalapeño. Set your heart afire with this Groupon.
Choose Between Two Options
$15 for $30 worth of Indian cuisine
$30 for $60 worth of Indian cuisine for tables of four or more
The menu at Silkâ€"formerly known as Angeethiâ€"includes vegetable samosas ($4 each), tandoori chicken ($13), aloo saag potatoes ($12), lamb kebabs ($15), and naan bread ($2).